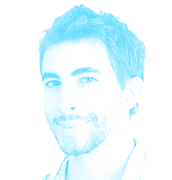 About
Currently student at Arts and Technologies of Image(ATI) University Paris 8.
I am also freelance motion designer and 3D generalist.

Qualifications:
DNSEP (master degree) in graphic design and multimedia
DNAP in graphic design and multimedia with honours

Skills:
Motion design, pre-calculated 3D, modelling, rendering, animation, compositing,
realtime 3D and virtual reality (unity), Programming Python/C++/web,
3D printing, printed graphics (poster, typography, logo...)

Softwares:
Blender, Maya, After Effect, Nuke, Illustrator, Photoshop, Unity, InDesign,
Krita, Natron...